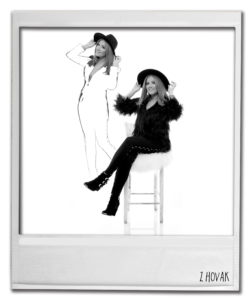 My most vivid childhood memory goes back to me at age 8 when I would make rings out of aluminum sheet metal from my father's man cave. I glued faux diamonds on and sold them to my classmates. These were my first designs.
It all began when I was hospitalized for 45 days with a broken leg. This is when I discovered my creative mind. My imaginative Pisces brain worked overtime and I would create characters who wore elaborate garments.
My family moved often, and growing up in different countries triggered boundless ideas. I was exposed to gypsies in Spain, vibrantly colored turbans in the Middle East, and the wild punks on Los Angeles's Melrose Avenue. Constant exposure to new cultures awakened my soul to so many design possibilities. 
I opened up my first design studio in Hollywood, across from a gentleman's club and next to an underground racing garage. Surrounded by such color, diversity and inspiration, it was here that I created my first official Z HOVAK collection. The original Z HOVAK brick and mortar store was in West Hollywood on Santa Monica Boulevard. The second collection and the sister brand to Z HOVAK is LANOOSH a children's line which was born in early 2015. Currently both lines are proudly designed  and manufacture in Los Angeles.
I also have an affinity for mathematics and numbers, particularly the mystical power behind the number 9 which, you could say, is my lucky number. This number crops up in many of my designs both in brands.
We all have the freedom and power to interpret the world how we choose. My world is a giant, neon playground of eternal design, overflowing with art and endless possibilities. The Z HOVAK and LANOOSH Brand is a reflection of this and has always been FUN, playfully accentuated by FUN..
Website:
www.Zhovak.com
www.Lanoosh.com
Back To Artists Page