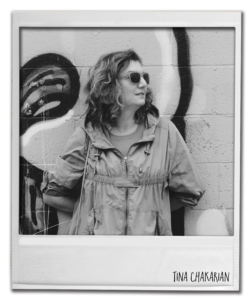 Tina Chakarian is a visual artist and designer based in Boston, MA, USA. She received a BFA in visual arts and design from the University of California at Los Angeles and a Post Baccalaureate from TuftsUniversity/School of Museum of Fine Arts, Boston, MA. Her works in installation, sculpture, and photography have been exhibited in Boston, MA. She has taught at Mount Ida Chamberlayne School of Design (Newton, MA), the Boston Architectural Center, Wentworth Institute of Technology (Boston, MA) and worked as an interior and lighting designer in the greater Boston, MA area and New York, NY (Robert Henry Architects/John Sahag). Fluent in four languages and active within the Armenian diasporic community, Tina Chakarian is currently developing a body of work in sculpture and installation for upcoming exhibitions in Los Angeles, Boston, and Berlin in 2017-18.
Back To Artists Page
Mary Anderson
Writing on Tina Chakarian's "Only With the Heart," "Untitled," "Green Light" (2017)
Exhibition "She Loves" at the Honeypot Studio, Los Angeles
February 3, 2017
It is only with the heart that one can see rightly; what is essential is invisible to the eye.
– Antoine de Saint-Exupéry
"Only With the Heart," "Untitled" and "Green Light" (2017) comprise a relational poetics of form, color and light. Each form is a translucent yet tangible 'body' that holds, and yet emerges through, the material and immaterial qualities of light. Traversing the boundaries of form and plane to illumine their interiority, light – as a metaphor for love, meaning, consciousness, life – becomes visible to the eye. In each of these works we encounter the beauty and radiance of light, its fragility and temporality, its capacities for revealing and concealing simultaneously. These sculptures and the spaces between them articulate a site of encounter, a coherent landscape of affect, voice and touch. Light infuses their geometries of form and word with the sense of a presence, a vital luminosity and hue that affirms an inchoate truth about language and the human heart. Using light as a metaphor and an actual, if also fleeting, material, this installation addresses the nuance and complexities of seeing rightly … of seeing between and within and beneath the surfaces of inert matter to express a vibrant interconnectivity in which the quotidian becomes precious, a mother tongue breathes anew, and the subjective and social meet.
Mary Anderson
Associate, Mahindra Humanities Center
Harvard University
Cambridge, MA
January 3, 2017