L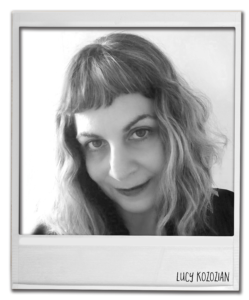 ucy Kozozian was born in Tehran, Iran. Her mother Iren Hovnatanian was the grandchild of the famous Armenian painter Hagop Hovnatanian, famously known as "the Rafael of Tiflis".  Lucy's interest in art and design started at an early age, always drawing objects and faces and designing dresses for her Barbie dolls. The senior year of her high school she found herself wondering which direction in art to pursue. She loved "everything design", including interior design and fashion design. Her art teacher set her on the path to becoming a graphic designer.
After working for several big and small design agencies she started her own award-winning design firm called Luko Designs. Her branding and packaging designs for consumer goods have been published in packaging design books which helped in getting the acclaim she needed to take her design business to the next level. Luko Designs works with many startup companies in the consumer goods industry and mostly inventors who have come up with innovative products needing branding & packaging design to sell their products in the marketplace. Lucy's reward in her endeavors comes from knowing that her work inspires both teachers & design students all over the world who use her designs as inspiration and as part of their mood board presentations for their in-class projects and assignments.
"Design feeds my soul, and everyday I'm inspired by artists and designers who are innovative and have strong voices in art and design … I'm excited to learn something new everyday".
Website:
lukodesigns.com