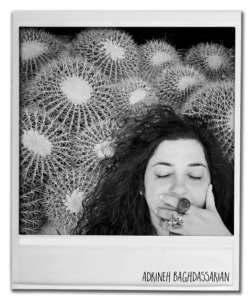 Adrineh Baghdassarian is a multidisciplinary artist, designer, and curator based in Los Angeles. After receiving her formal training in metal, textile, and ceramics design, she launched her own manufacturing company, which went on to become a highly regarded fixture in L.A.'s fashion industry. For over a decade, the company's products, featuring Adrineh's signature designs, were showcased by several prestigious outlets including Henri Bendel, Nordstrom, Anthropologie, and Neiman Marcus.
Today Adrineh thrives on devising cutting-edge artistic installations and events which ignite the imagination, connect people and ideas through the ever-evolving language of art, and celebrate inclusiveness, diversity, and dialogue. As she aims to create and curate dynamic and distinctive exhibitions, Adrineh espouses all types of mediums and materials, with a particular fondness for fiber and ceramics.
Adrineh feels blessed to be able to be engaged in art in Downtown Los Angeles, whose history, architecture, and cultural exuberance provide her with an endless supply of inspiration. Bored with same-old, same-old exhibitions which leave the senses cold and the imagination feeling cheated, Adrineh strives to help give birth to extraordinary artistic events that are equally edgy, cheeky, and burning with the zest for life.
Back To Artists Page